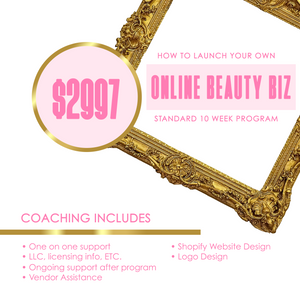 Divine Designz Cosmetics
How to Launch Your Own Online Beauty Business - Standard 10 week coaching program
Regular price
$2,997.00 USD
$0.00 USD
Unit price
per
Do you dream of starting your own online beauty business but don't know where to start? Do you already have a small online beauty business but is feeling stuck?

Have you asked yourself, "What do I do next? What are the steps I need to take to make sure sure my business is legitimate? How can I find products? Where do I go to get a professional website made"? How do I market my products?
If you've asked yourself any of these questions then you're in the right place!

During my How to Launch Your Own Online Beauty Business coaching program, I will do all the hard work needed to help take your brand from A to Z in ten weeks. That means for you, no more staying up late researching and stressing, no more wondering where to source your products, no more struggling with finding someone to do your website for you. No more worrying about how to market your products. I will do it all and show you how to get online sales! At the end of my 10 week program you will have a fully launched, professional and developed brand!
My How to Launch Your Own Online Beauty Brand coaching program is broken down in three SIMPLE phases to make your brand launch successful:
Phase one: Branding
During this phase, you will sit down with my very own personal graphic designer and she will create your brand for you! This is the phase where you will see your dream come to life! You will tell her your vision, colors etc. and she will create your very own image or text based logo, full design e-commerce Shopify website with ten product uploads, one web banner and social media integration 
Phase two: Business
During this phase, I will guide you on how to make your business legitimate and the reasons why you need to do these steps. Are you interested in trademarking your business name? Do you want to know the necessary paperwork and requirements needed for you to legally operate your business? Let me take of it for you! During this phase, I will research all licensing and tax requirements you need for your state and help you obtain Sale & Use tax license, business license, EIN number and a LLC.
Phase three: Sourcing
During this last phase, I will connect you with reputable trustworthy companies to source your products, ingredients, packaging and more. No more struggling with finding vendors. You tell me what you need and I will make it happen. 
 BONUS
Week 10, I will teach you how to build and market your brand through storytelling.
This program is 10 weeks long and consists of 10 weekly meetings held in person (if local) or on zoom. Weekly in person meetings can be held in Raleigh, NC or at my store in Jacksonville, NC on Mondays only.
How to sign up:
1. Purchase program. Cost is $2997. Can be paid at once, or installments using Shop Pay. Additional payment plan can be made upon request.
2. Once your purchase has been made, please return back to this page and hit the Schedule Appointment button down below to schedule your first initial meeting. After initial meeting, all subsequent meetings will be held every Monday until 10 weeks are complete. For ex: If your initial meeting is 10/16, your next meetings will be 10/23, 10/30, 11/6, 11/13, 11/20, 11/27, 12/4, 12/11 and lastly 12/18.
In 10 weeks you will have your online beauty business launched!
Are you ready?
What you will receive:
✅One on one support
✅Professional text or image based logo
✅Shopify website that includes: Full design, e-commerce ability, web banner, 10 product uploads and social media integration 
✅Help obtaining EIN number, LLC, trademark info and any licensing you may need
✅ Help with finding the best companies and manufacturers to source your products such as product vendors, packaging vendors and more!
✅ How to market your brand effectively to drive in the sales
---
Share this Product
---